Photochemical efficiency, content of photosynthetic pigments and phenolic compounds in different pitcher parts of Sarracenia hybrids
Keywords:
anthocyanins, carnivorous plants, carotenoids, chlorophyll, flavonoids, photosynthesis, Sarracenia
Abstract
Sarracenia is a genus of carnivorous plants characterised by leaves modified into pitchers which lure, trap and digest insects. The aim of this study was to analyse the photochemical effi ciency and contents of photosynthetic pigments and phenolic compounds in different pitcher parts – operculum, wing, pitchertube upper part and pitcher-tube lower part of three morphologically different Sarracenia hybrids. The photochemical efficiency of the operculum and the pitcher-tube upper part was lower than that of the pitcher-tube lower part and wing, especially in hybrid B. In all hybrids, the wing had higher amount of chlorophyll a than other pitcher parts. In contrast, a higher amount of phenolic compounds, in particular anthocyanins, was measured in the operculum and the pitcher-tube upper part, parts which are red-coloured and participate in luring and trapping insects. Although there were some differences among the hybrids, the results show that amount of phenolic compounds and photosynthetic pigments as well as photochemical efficiency are related to the function of the pitcher part analysed.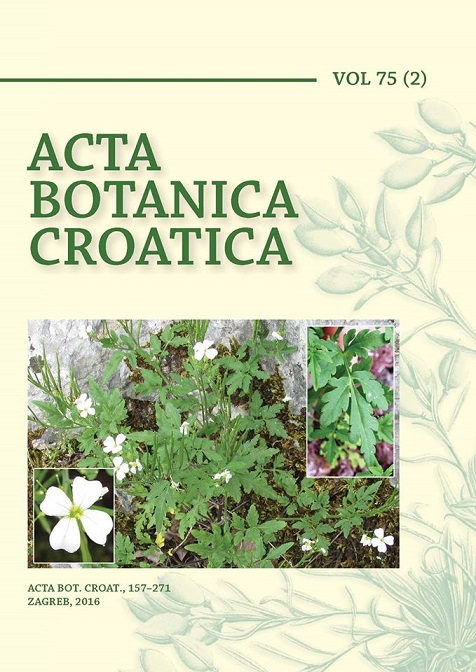 Downloads
License
Acta Botanica Croatica is an Open Access journal with minimal restrictions regarding content reuse. Immediately after publishing, all content becomes freely available to anyone for unlimited use and distribution, under the sole condition that the author(s) and the original source are properly attributed according to the Creative Commons Attribution 4.0 International License (CC BY 4.0).
CC BY 4.0 represents the highest level of Open Access, which maximizes dissemination of scholarly work and protects the rights of its authors. In Acta Botanica Croatica, authors hold the copyright of their work and retain unrestricted publishing rights.
By approving final Proof the authors grant to the publisher exclusive license to publish their article in print and on-line, in accordance with the Creative Commons Attribution (CC-BY-4.0) license.